ZZ OLD Kenner Blythe doll prototypes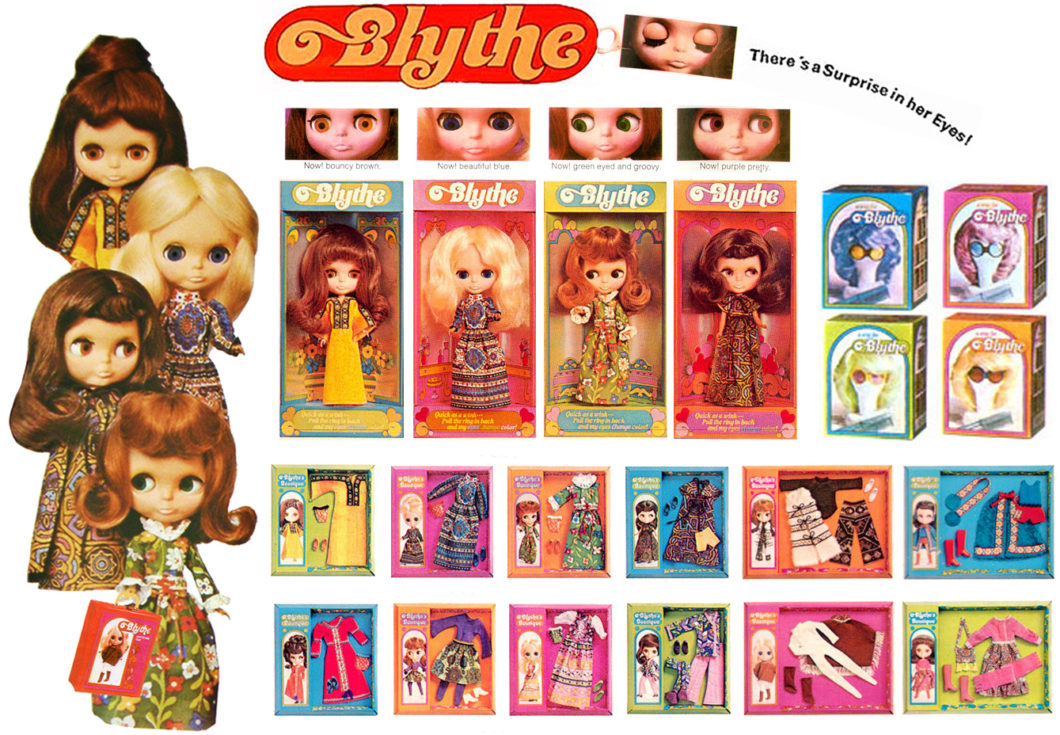 Blythe was produced by Kenner toys in 1972 and designed by Gordon Barlow and Allison Katzman at
Marvin Glass Associates, one of the foremost toy design studios of that time. Blythe is 11,5 inches tall, with
a drawstring coming out of the back of her oversized head. Every time you pull it, she changes eye color
from blue, to pink, to green, to orange. She came in 4 hair colors, blonde, brown, black and auburn, had
12 groovy outfits, 4 wigs with matching sunglasses and a carrier case to store everything in. Her styling
strongly reflected the vibe of her time, the end of the colorful 60s and the dawning of the more earthy 70s.
The terribly elusive AiAi Chan, released that same year by Tomy, for the Japanese market.
Plot twist! In 1972, children found Blythe's large head and changing eyes a bit on the scary side and by the end
of that year she was no longer being produced. Boxed dolls lingered in dusty toy store aisles at clearance prices
for years, before disappearing for good. Until 2000, when Gina Garan published her book of Blythe photographs
"This is Blythe" which sparked a great interest in the doll in Japan. Shortly after, Blythe was being re-molded,
reproduced and given a new lease of life, with a re-release by Takara Toys. Her time had finally come and she
took the world by storm.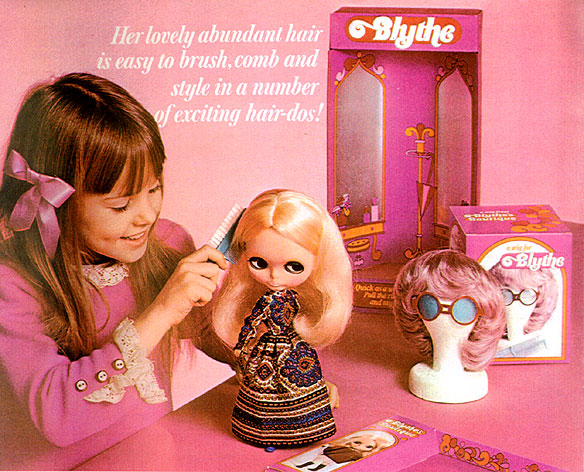 Little is known about Blythe's pre-production days; initially there were plans for 4 different dolls: Blythe,
Karess, Willow and Skye. They would have had different skin tones and while their eyes would open, close
and change direction, they would not change color. This rare prototype, from the earliest stages of Blythe's
design, only has green eyes which change direction by way of turning a small lever at the back. There are a
few red hairs still stuck on her head, where her wig was glued.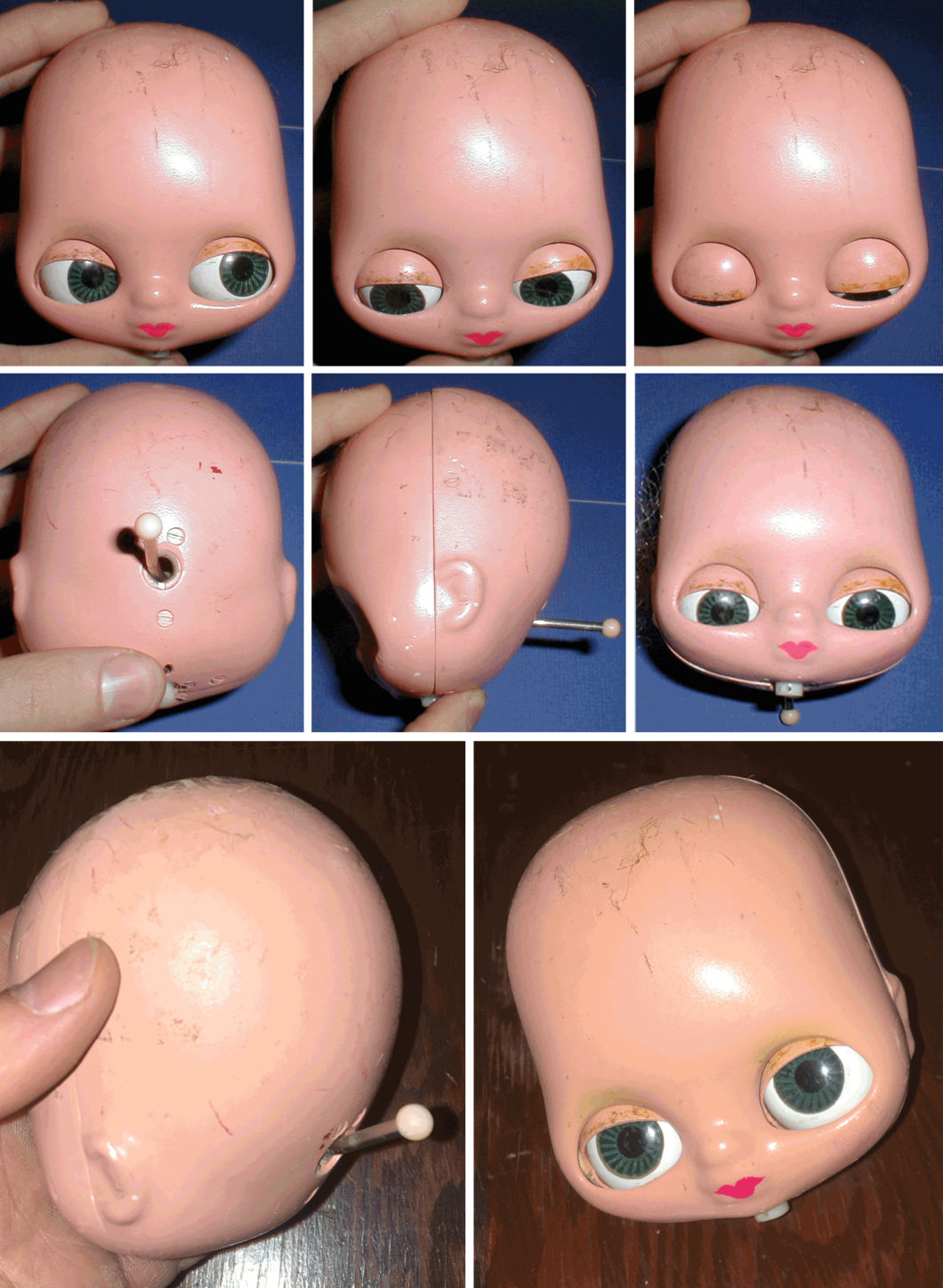 According to the production documents further below, green eyes and red hair would correspond to the
"Willow" character. In this rare document, somebody is offering skeptical feedback in red ink, regarding
the entire Blythe doll concept. (All the while, misspelling Blythe's name.) Note that at this stage  (dated
October 21st 1971) the plan still included four dolls, with only one eye color assigned to each. They
eventually abandoned that idea in favor of having a mechanism that would change eye color as well.
10/21/71 "Somehow this fundamental Blyth identity bothers me a little. We refer to the whole adventure
as Blyth, which name and which identifying figure will probably get more visual attention in our sales
efforts – and in this regard I somehow feel blonde hair and blue eyes are most used and would probably
be more acceptable and most satisfying. Think about it."
Cost sheets and fabric swatches for "Golden Goddess" and "Medieval Cape" outfits.
These outfits, shoes and hairstyles, never made it past the drawing board stage.
Blythe's patent, filed on December 30th 1971 and approved September 11th 1973, credits Gordon Barlow,
Marvin Glass and Norman McFarland as being Blythe's inventors and bares no mention of Allison Katzman.
It notes: "Dolls having changeable physical characteristics, possess the advantage
of  increasing the child's identity with the doll."
In 2005, my friend Tess and I purchased a big lot of production sample dolls from a former Kenner employee.
Amongst them, was a handmade resin prototype doll, which is probably the front facing blue eyed blonde in
the packaging photos and in the box – she is marked "Box" on her chest – as well as in the main print ad. 
It's unknown if she was featured in the US tv ad, although she would have been filmed with different hair,
as the blond doll's blue eyes in the tv ad are looking to the right.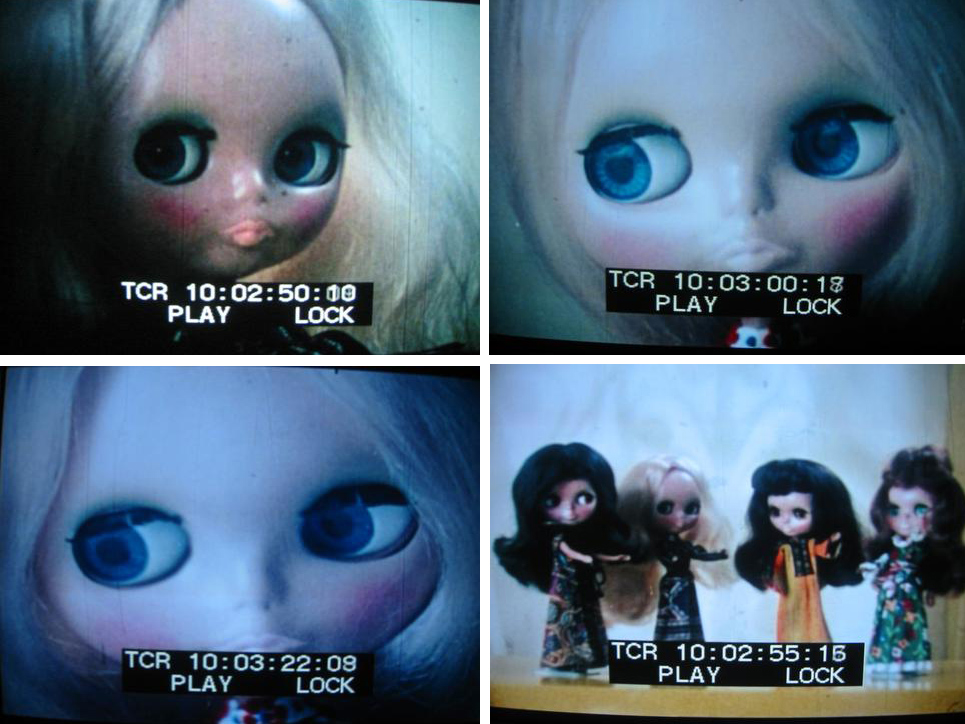 Her handmade, hollow head is made in thin, brittle resin, with hand painted makeup and mounted on a regular, tan
Skipper body. The scalp was covered in double sided tape in order to hold the loose scalp in place, which was just resting
on top. She's marked "6" inside her head and "BOX" on her chest. She is incredibly expressive with a startling softness.
Leo took these gorgeous 35mm photos her.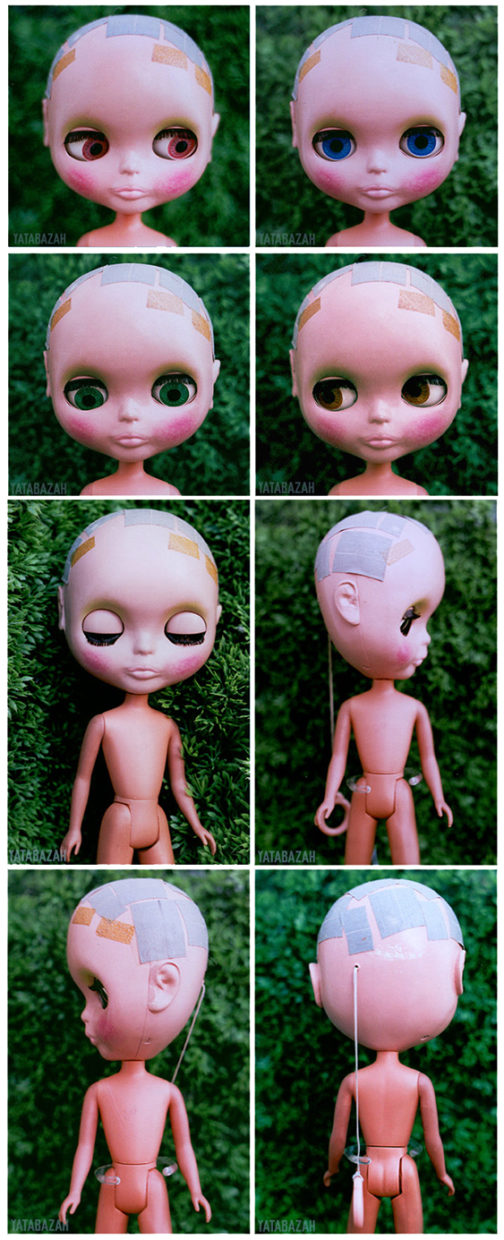 The morning she arrived, mere moments after the initial shock of realizing we were in the presence of Blythe Jesus,
Leo and I, had to peek inside. The sacrilege! Inside the head, we saw that the eye mechanism was made of resin while
certain parts were made of wood! The body is a regular tan Skipper body with the toes chopped off.
Bloody gorgeous.
About 15 years later, Tess found and purchased another prototype doll, a brunette, marked "7".
How gorgeous is she?! We still need to find 1 to 5 and 8 to..?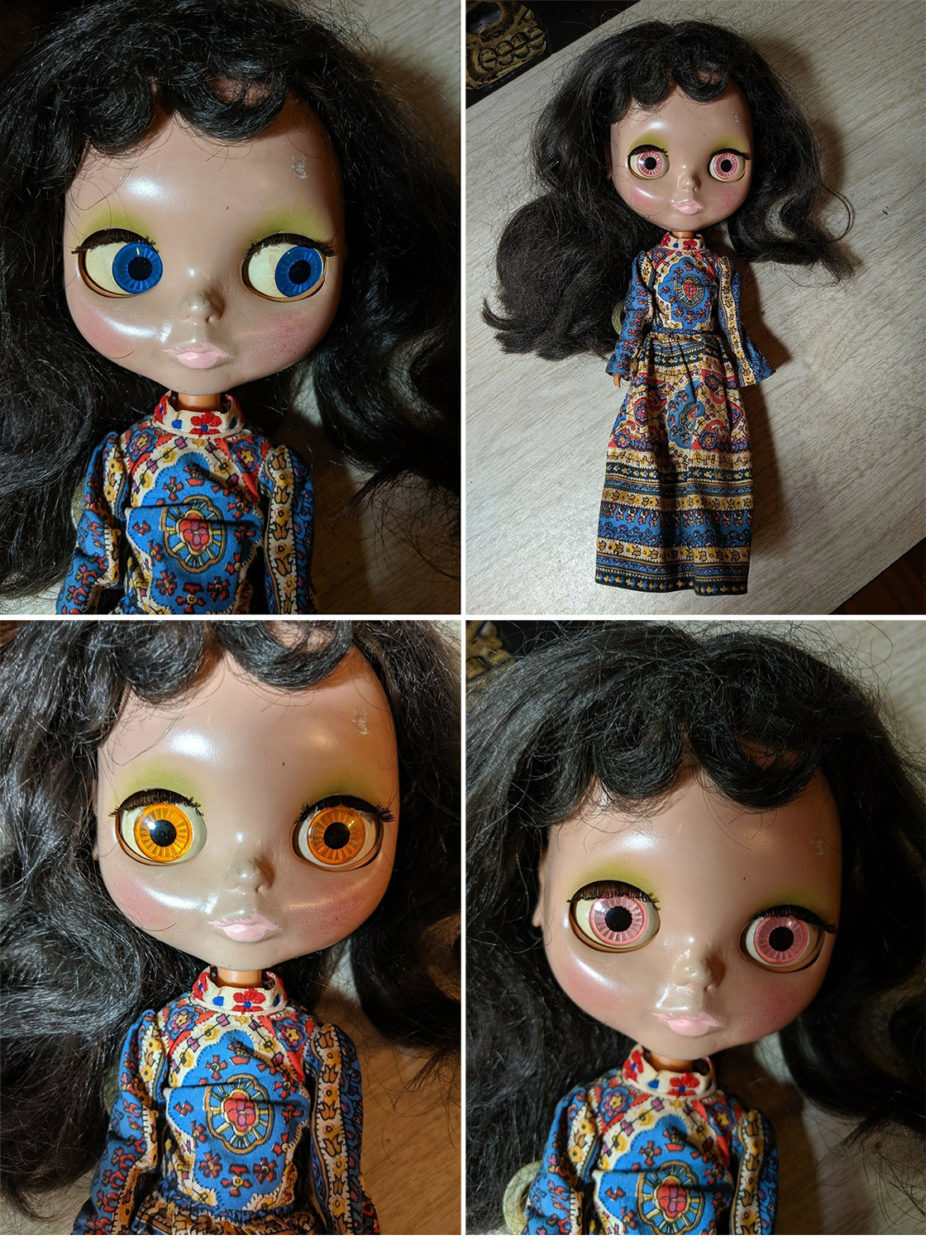 I'll leave you with this delicious, mysterious titbit; This head, made of pink hollow resin with pencil drawings on it,
we got from the former Kenner employee, along with the blonde prototype doll. Whether it was the work of a bored
designer doodling on it while talking on the phone, or it was part of an amazing idea for Blythe that never panned out,
we'll never know.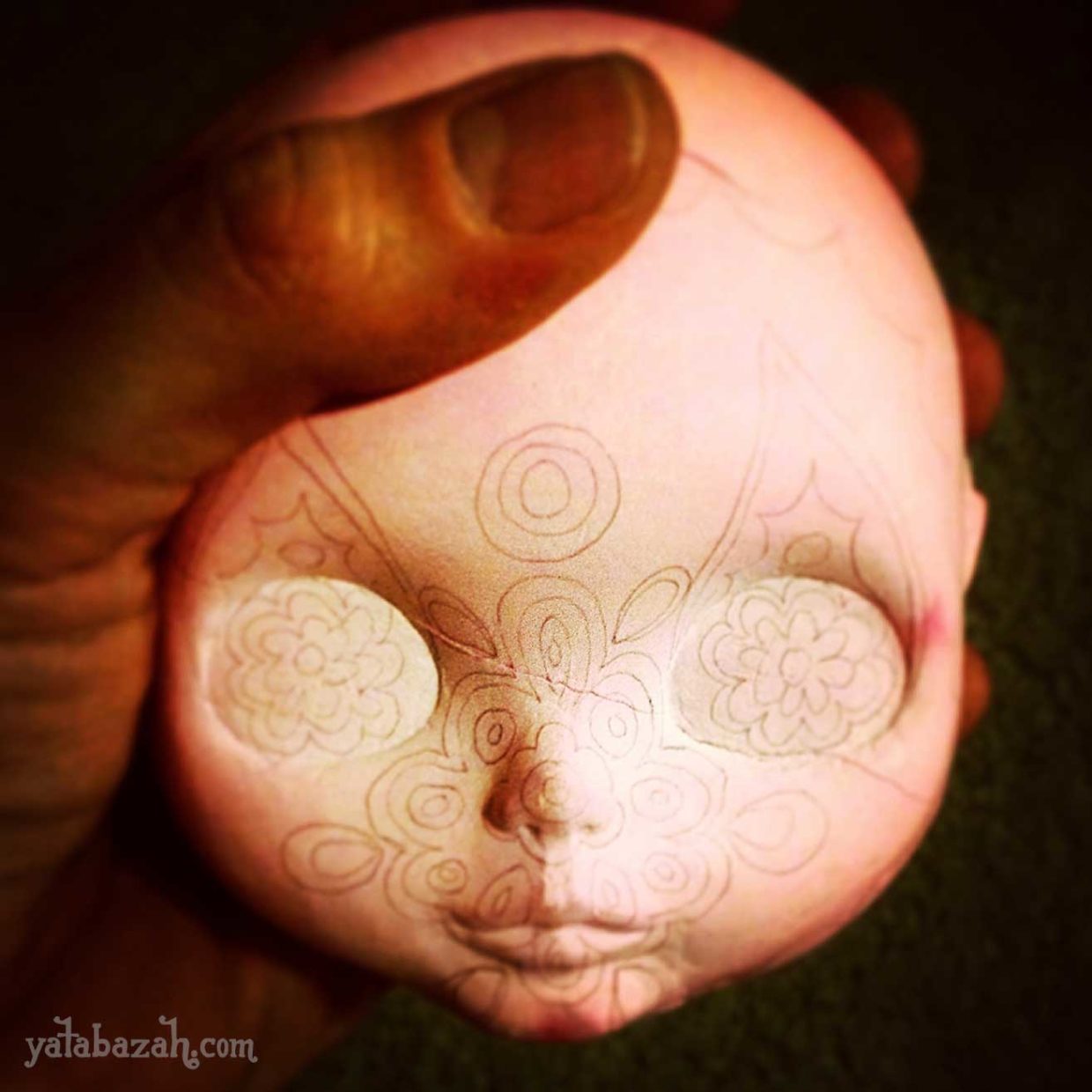 Copyright Notice
Apart from Blythe Kenner catalog
promotional
material, patents and cost sheets (© Kenner 1972 / © Tomy Corp. 1972),
ALL other elements of this website, including
layout and content, specifically images and information of prototype dolls,
are protected by commercial law, copyright, moral rights and other laws regarding intellectual property rights.
Unless expressly permitted,

it is forbidden to copy or transmit by any means, parts or elements of this website or its content.