AAAAAA herro falt! herro!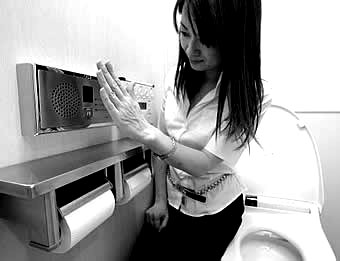 Miss Kuniko Kato puts her hand over the sensor of "Sound Princess," that makes the flushing sound to mask the cruder noises of nature at her office's ladies' toilet in Tokyo.
The device, a curious mix of Japanese bashfulness and modern technology, are spreading rapidly through public buildings and have now become standard equipment in new construction.
There's another reason behind the increase in the gadgets: ecology.
Women in Japan have traditionally flushed several times to cover up their noises, so the Sound Princess is cutting down on public building operators' water bills.
---